Chronicles of the 1st Women's Professional Billiard Association President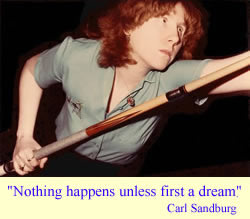 .....For many years the only major title available for women pool players to win was the BCA US Open 14.1 Championship. In 1976, some of the more prominent men players broke away from the Billiard Congress of America to form their own players' organization, the Professional Pool Players Association, and launched their own major competition which they entitled the PPPA World Open 14.1 Championship. They did not want a women's division for several reasons. The men were struggling to raise their prize fund and felt that the women might be taking away sponsorship monies that could be going into their own coffers; they were confident that no audience wanted to pay to see the low level of women's play; the women would be occupying the tables that were needed for men's games; and most importantly, they believed the women would be taking away media coverage from the men's event and the men stars.
.....In 1976, months before I became president of the fledgling WPBA, I was a tournament promoter who convinced the PPPA to hold a women's division within their upcoming 1977 World Open 14.1 Championship. I was motivated to become an organizer because by this time the BCA had announced they would no longer have a US Open straight pool championship and were changing their main event to an amateur 8-Ball tournament. I loved straight pool and did not want women players relegated to playing only short rack games. I felt that it would hurt them in their development to become better players and felt a real need to maintain some level of professional status for women within the billiard community.
.....My agreement with the PPPA was that I had to raise the prize money for the women's division myself. Additionally, to sweeten the deal, since I was a professional photographer, I would provide the PPPA with some photographs for their booklet. My writing and public relations expertise would also supply them with some media coverage for their event, before and after, all gratis.
.....Traditionally, prize monies came from two sources. A major source came from selling advertisements in the main event's booklet. The agreement with the PPPA was that the women would be given some space for their photos and biographies but could not sell any advertisements to sponsors. We had to raise our prize money by other means. Our other resource would come from qualifying fees collected from room owners who hosted 2 day competitions for us in their halls. The qualifying fee was made up of entry fees from the women players participating in the aforesaid event. In some cases, the room owner would volunteer to pay the fee out of pocket and use any entry fees to their event for their own tournament purse. This was to encourage more women to participate in the qualifiers.
.....I'd like to take a moment to mention that room owners like Mike Ash, Florence Fuller, Al Balukas, John Ogonowski, Sy & Dolly Eckstadt, and Ernie Costa were some of the first room owners to offer an extra incentive to women players by paying the qualifying fee for the PPPA event and giving back the entry fees as prize money in their qualifiers. Remember, I was not a WPBA promoter as yet. I was a singular woman player trying to ensure the continuation of a major 14.1 championship for women in the United States. But I digress…
.....A major difficulty was that I would be competing with the BCA for hall space because the BCA was now holding qualifiers for their National 8-Ball Championship. All and every room owner who was approached to hold a 14.1 qualifier had the same grumble; not enough women would show up to fill the field. Usually only six participants would show up for the scheduled sixteen player event. This meant that the room owner would have to shell out the rest of the money that made up the qualifier fee. It also meant a boring tournament for spectators.
.....Encouraged by Sy Eckstadt to put my name out there, I began writing a column for the newly released American Billiard Review. My column was not instructional but was a politically charged discourse about the inner workings of the women's pool playing community.
.....I realized that there was a fundamental weakness to the current qualifying process. Once a competitor had won a preliminary event, she was not allowed to play in any more tournaments until the 'big' event. No wonder room owners ran out of players for their qualifiers. In 1976, I wrote in my American Billiard Review column:
....."There weren't enough women players, and the players we did have did not play enough, and their skill level wasn't high enough, and there weren't enough events to play in. Enough said."
.....The women were different from the men in that they did not want to gamble. And gambling was a way of improving your skill set. By competing for money you were putting yourself on the line; sweating to win; your heart was racing; your brain was getting sharper. For the most part, gambling was not only distasteful to women players, it was dangerous. They longed to find another means, an alternative to gambling, to increase their level of play. And I was determined to provide that outlet.

.....By December of 1976, I announced that my qualifiers were going to be based on a point system rather than a qualifier system.This was unheard of in the billiard community. Each ranked place in the qualifying event would earn a player a certain amount of points. By the end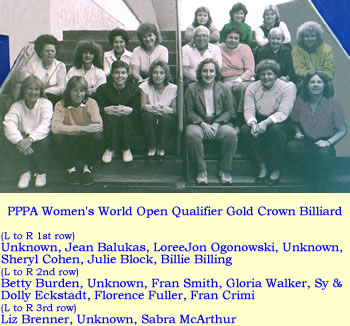 of the year, the points would be added up and the sixteen top point earners would qualify for the main event, the Women's World 14.1Open. Now if a woman won a room owner's tournament, she would still be eligible to play in the next room owner's competition because all she had were points instead of a qualifying spot. As a matter of fact, that player could be knocked out of the top sixteen places if she didn't keep competing. An impetus was put in place to persuade women to show up for more qualifiers, something that pleased all room owners and, of course, the players themselves.
.....While I was convincing room owners to hold qualifiers, I was still contacting Palmer Byrd as to the status of the WPBA which was now dormant after holding only two events. If the three of them didn't want to continue with the WPBA, I wanted her to hand it over to me.
.....Palmer explained, "No one's interested in women pool players. There's very little support. And the players themselves don't appreciate what you are doing for them. They complain about everything and are highly critical of any event you put together for them. It's not worth it."
....."I'm contemplating starting up another woman's players' organization in order to give myself credibility as a promoter." I told Palmer. "But that means all of your efforts and accomplishments would be lost."
If you can name the 'unknown player', let us know!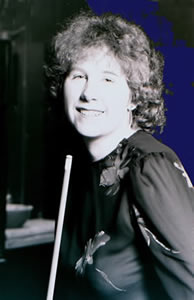 ....."I want to put something in place that will survive long after I'm no longer playing." I continued. "I'm sure that after a strong foundation is in place, other women will pick up the torch and carry it forward. I have examples of that process right before me in all aspects of women's sports and women's activities, especially here in New York City: politics, government, business, education and in the home. Women are emerging in every facet of life. There is indeed a woman's movement in this country and I'm in the thick of it. This is the perfect time for women pool players to grow." I pressed.

....."Something about calling an organization the 'Ladies' whatever bothers me." I implored.
.....I was sympathetic to the efforts of Palmer, Madeline and Larry. Madeline had disappeared from the billiard community to pursue a musical career. But I did get a chance to speak with Larry Miller (who has totally been forgotten by the current WPBA.) He told me he was leaving the National Billiard News where he was the managing editor to go into the private sector. He was no longer interested in the billiard world. He also said that no one appreciated their efforts to form a women's billiard organization. And he added that it was too much 'for one woman to handle everything.' He never told me who the 'one woman' was, Palmer Byrd or Madeline Whitlow.
.....Furthermore, the WPBA had announced that they had 400 members. I thought an extensive mailing list like that would be a shame to waste. And it would certainly help me.
.....I contacted Palmer again and told her that I for one appreciated all the efforts the three of them had put out. And a way of keeping their names alive was to hand over the organization to me. Too many men's organizations came and went. Longevity was a key factor in setting the women apart from the men.
....."Let's make 'continuity' a keystone to the women's player community." I begged.
....."Alright, I'll send you everything I have," said Palmer. "But you'll be sorry."
.....In retrospect, she was partly right. It was a huge disappointment when I found out the members list had only 36 players on it. Of those, only four players remained active: Gloria Walker, Debbie Smith, Jean Balukas and myself. We had a few more dues paying members but they were in the Midwest and did not come to the East Coast qualifiers. Later Palmer explained that it "looked better" if they said they had 400 members. It made sense. I should have anticipated the truth since the BCA's players list was a small one as well. And in my own personal experience, I saw how few women played in pool rooms and tournaments.
.....In the near future, I would have many other reasons for heeding Palmer's warning.
Stay tuned for more adventures of the First WPBA President ...

.....

See More About Billie