A moment dedicated to my dear Cousin Susen
Susen Dougherty Kreger
…..Some of the most pleasurable memories I have as a kid were the times I spent with my cousins. Whenever I reminisce about ages 6 to 18 my thoughts always include them. There is nothing serious about those times. No disasters, nothing negative happened. It was always a lot of fun to visit with the cousins. My Aunt Marguerite and Uncle Fred owned a large home with a huge backyard. Besides plenty of lawn, there were lots of trees and even a small brook running through the property. It was a children's paradise. Upon arrival at my aunt and uncle's home, all the cousins, happily, headed for the yard.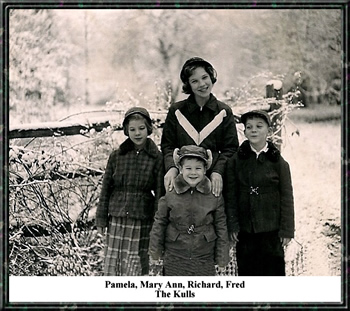 …..There was a mixture of ages and personality types, and we all liked one another. For the most part, the eldest hung out together, and then there was the middle group which included me, and then the youngest, which included my cousins Richard and Susen. Little Marguerite was still a baby and stayed in the house with the adults.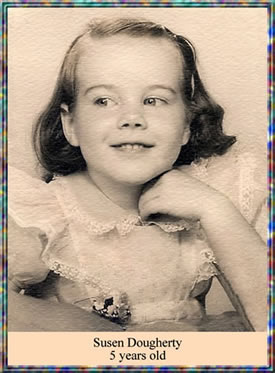 .....When my reflections turn to my cousin Susen the adjective that comes to mind is quiet. She always participated in the activities but in a calm and hushed manner. In her youth, she was a member of the New Jersey Ballet Company which matched her personality quite well. As the years went by, I infrequently saw my cousins. We all attended the weddings and family gatherings and always celebrated seeing one another. Then a few years ago, I became involved with the computer industry and Susen and I found a rejuvenated bond. I was on the IT desktop side; she was on the more creative user side of the industry as a graphics designer.

…..Susen was working with Photoshop, Illustrator, PowerPoint and web designer programs like Homesite and Dreamweaver. I was a beginner when it comes to those programs while Susen was a full fledged expert. She was always encouraging me to get started on my website. We shared many a conversation about how to enhance my photos and utilize creative software for my up and coming website which took ten years to get off the ground. My fault, of course. I was always busy with other things and there was a bit of anxiousness about taking on unfamiliar software. And eventually, I did get started as you well know Dear Reader.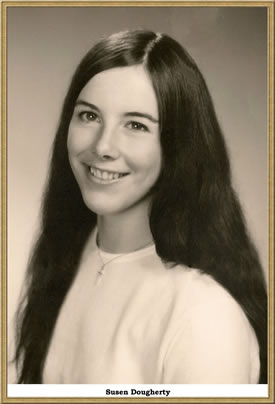 …..It is with great sadness that I have to announce the one year anniversary of Susen Dougherty Kreger's passing on February 12, 2010. It was a sudden accident. We are all still in shock. I can finally express some of my thoughts on the subject. What impressed me the most when I arrived at the funeral parlor was that I could hardly get in the door because of all the people who were there to rejoice in knowing Susen.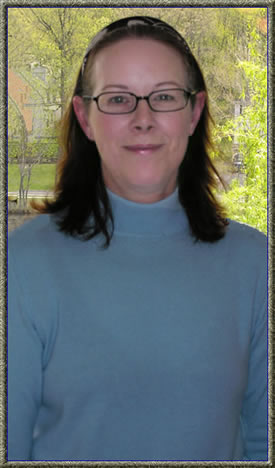 There were over two hundred mourners at the Doyle Funeral Home in Morristown, NJ. I am grateful that they made room for me to go in as I was a direct relative. Besides our family, there were folks from her work place and others from the group she rode horses with. Susen's horse, Alabama, had passed a few months before. Another poignant moment my cousin and I had communicated. I was surprised to find out she rode a Harley-Davidson. Susen was also an avid horse rider who loved cats and other animals as much as I do. It was one more bond we had shared.

….. She was dedicated to her mother, Elizabeth Shirley McCauley Dougherty, our Aunt Bette. We love her for that and more. We all miss Susen. I keep her picture on my fridge which reminds me of her every day. It saddens all of us that someone so young has been taken from our family. And yet there are many times I smile and remember all the wonderful moments the cousins all shared with Susen.