.....Billie-isms, are my thoughts about people and aspects of the billiard world that are essential in my mind for others to know about. Perhaps no one else is going to recognize their significance, but nonetheless I felt the urge to showcase these people, events and my beliefs on certain topics within these pages. Please keep in mind I have a reputation for being controversial, a moniker I treasure.
FLORENCE FULLER
ROOM OWNER, PLAYER, TOURNAMENT DIRECTOR AND COORDINATOR
WPBA SUPPORTER AND ADVISOR
CANDIDATE FOR THE WPBA HALL OF FAME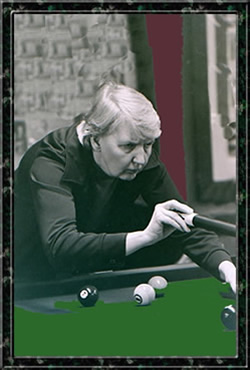 .....The women's pool community owes a debt of gratitude to Florence Fuller, prior owner and operator of the Pocket Billiard Lounge in Binghamton, NY. Players both male and female recall moving stories about her life wherein she demonstrated the power of teaching character by example. Florence is an exemplar individual worthy of respect and admiration. For years she held both the male and female New York State Championships in her room. Besides being a financial supporter of the WPBA in its early years, she served on the newly formed organization's Board of Directors. Many times she was there with sensible suggestions to alleviate problems caused by players' grievances, financial decisions and tournament arrangements. She continued to support the women's side of the sport by hosting many tournaments for the East Coast Women's Pool Tour. A real friend to countless players, Florence has deserved the many praises showered upon her throughout the years. At 86, she still enjoys playing the game she supported and enriched throughout her thirty plus years as a room owner. She should be a prime canidate for the WPBA Hall of
Fame.
.....The following is an informative three part video interview with Florence who is much loved by the pocket billiard community. The myriad of pool players, both amateur and professional, who have known Florence over the years, will enjoy this short film which has captured her personality.
.....As seen on YouTube, this film was produced and directed by Billie Billiards Promotions.

..... ...... ...... .....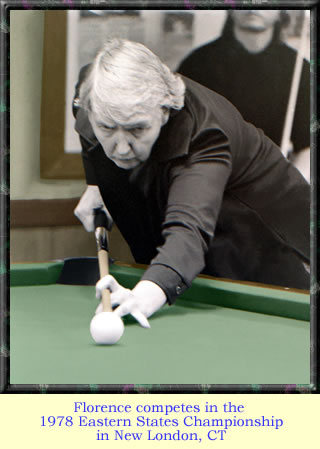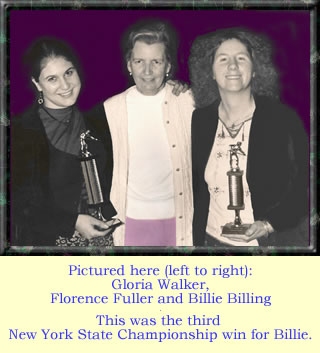 .....Now is the time to let the Women's Professional Billiard Association know that you support Florence Fuller's entry into the Hall of Fame. Please email the WPBA at info1@wpba.com.

DOROTHY WISE, FIVE TIME BCA US OPEN CHAMPION
ENTERS THE WPBA HALL OF FAME
.....A burning goal of Billie's was to official recognize DOROTHY WISE's induction to the WPBA Hall of Fame. Although the initiators had announced the induction of RUTH McGINNIS and Dorothy into the Hall, nothing had formally been done to acknowledge that honor. As soon as she took over the organization, Billie assigned Gloria Walker the task of presenting a plaque to Ruth's sisters in Pennsylvania to fortify her induction. Press releases, along with a photo of Gloria and the McGinnis sisters were sent out to the local and billiard media.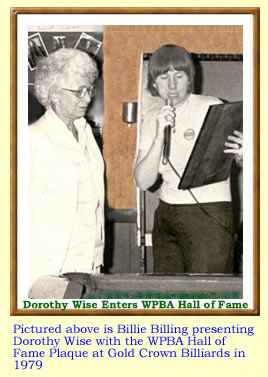 .....However, Dorothy, although alive and well, living and prospering in California, literally heard about her induction by reading the National Billiard News and had never been directly contacted. Something monumental had to be done to distinguish this great tribute to her. "For years, I had been in contact with Dorothy to let her know that the WPBA recognized her as one of our most important pioneers of our sport." said Billie. "She set the benchmark for other women players by winning five consecutive U.S. Open titles, along with many other tournament wins."

....."A true lady, Dorothy displayed compassion for others while being passionate about her beliefs. Her peers respected her for the type of person she was as well as for her playing ability. She had a demure posture while at the same time speaking her mind when needed. She was a nurturing and unselfish woman with an awesome talent for playing pocket billiards."
.....In 1979, Billie's dream came true when she was able to put together the resources for a banquet dinner for Dorothy, along with presenting her a Hall of Fame plaque at Gold Crown Billiards in New London, CT.