.....Billie-isms, are my thoughts about people and aspects of the billiard world that are essential in my mind for others to know about. Perhaps no one else is going to recognize their significance, but nonetheless I felt the urge to showcase these people, events and my beliefs on certain topics within these pages. Please keep in mind I have a reputation for being controversial, a moniker I treasure.
POOL INSTRUCTOR PAR EXCELLENCE
BILLIE BILLING TEACHES ON TV, MOVIE SETS AND IN
PREEMINENT PRIVATE CLUBS AROUND NEW YORK CITY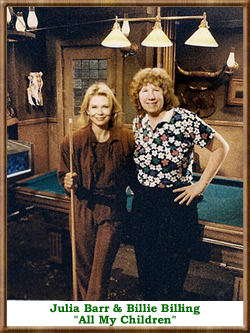 .....Billie started teaching pocket billiards throughout the New York City area in 1979. By 1980, she had built up an extensive clientele. A life-long learner of the game, Billie is committed to the art of teaching pool. She keeps her students interested and makes them want to learn more by providing positive, encouraging feedback. Besides having a great deal of patience, she knows that little steps in learning go a long way. Billie is willing to keep explaining, knowing that eventually it will make sense. Flexible in her style, Billie is cognoscente of the fact that everyone learns at their own pace and have different methods of assessing concepts. Her students feel comfortable and at ease with her and enjoy having her as their mentor and coach.
.
....."She has a way of explaining things in a slow, well thought out manner." conveyed Julia Barr (Brooke English) after being tutored by Billie, the consultant on an episode of "All My Children". "It's almost poetic."
.....Besides teaching at pool halls around NYC, Billie taught at the Friar's Club, the University Club, Long Island University and was a consultant for various TV shows and films.
©

BILLIE BILLING'S PUBLIC RELATIONS AND ORGANIZATIONAL TALENTS
DRAWS TV COVERAGE TO WPBA TOURNAMENTS
LEADS TO MAJOR SPONSOR AND ROOM OWNER SUPPORT FOR
THE WOMEN'S POOL PLAYER COMMUNITY
.....Betty Burden is a housewife from Connecticut. She is not a great pool player but is a pool devotee. Playing pool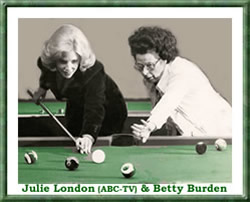 gave Betty a method of getting away from it all. She played at Gold Crown Billiards and participated for years in the BCA and WPBA qualifiers held there. In 1979, Betty traveled to Brooklyn, NY to play in a WPBA qualifier at the 18th Avenue Billiard Room owned and operated by Ernie Costa. Much to Betty's surprise, she found herself giving a pool lesson to an ABC TV commentator, Julie London, on the evening news. Because of Billie's expertise as a public relations specialist she was able to attract all types of media to WPBA tournaments: TV, radio, newspapers and magazines.

.....Because the level of play among women players was amateurish, a different negotiation point had to be made with room owners in order to entice them into holding a qualifier and paying the qualifying fee to the association. After all, holding a qualifier meant giving up profits that could be made from table time throughout the weekend. Typically, tournaments were held from 11 AM to 10 PM on Saturday and 11:00 AM on Sunday sometimes to 2 AM Monday morning. Room owners soon became aware that by having a WPBA qualifier the organization would bring much needed publicity to their establishment. Most importantly, women were key figures in cleaning up the public's image of the sport of pocket billiards.
.....Throughout her four years as WPBA President, Billie Billing allured TV into many of the rooms that hosted qualifiers for the women's organization. She was the first promoter to bring TV to the rooms of Barry Behrman, Ernie Costa, Sy & Dolly Eckstadt and John Ogonowski to name a few. All of these pool hall proprietors told Billie unanimously that this was the first time, despite all their efforts, that TV coverage of their event came to their rooms.

..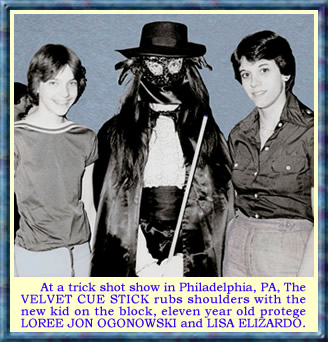 THE VELVET CUE STICK
....During the late 70s and throughout the 80s, the main job of the WPBA President was to increase the number of players and raise their skill level which would result in more sponsorship and higher audience participation. Until that happened the only way to raise prize monies and revenue for the day to day operations was to convince the manufacturers and room owners that they would have a public relations vehicle via the women's pocket billiard tour. Billie created many publicity stunts to attract the media to the WPBA competitions, notably the "Velvet Cue Stick" who made several appearances between 1978 and 1981. A little known fact was that every time Velvet appeared she was a different WPBA player. Sometimes tall, sometimes short, Velvet kept the spectators guessing as to her true identity.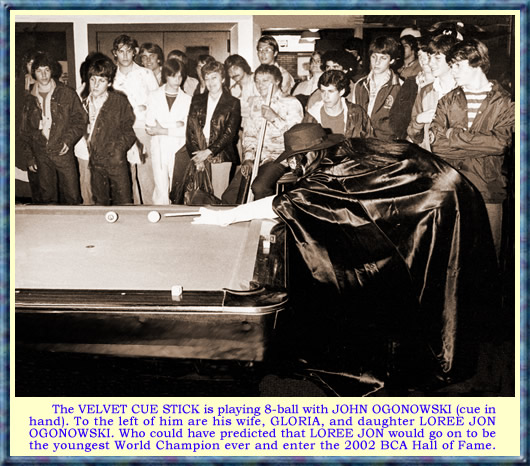 .....Loree Jon Hasson shaped her game by participating in many WPBA tournaments during my administration. Entree to competition at an early age, along with her family's proprietorship of their own pool room giving her free access to the court, aided her in becoming a champion in years to come.
.....Loree Jon won over 50 titles, including the prestigious World Pool-Billiard Association (WPA) World Championship over the course of her career and was honored five times as "Player of the Year by both Pool and Billiards Magazine and Billiards Digest.
.....The Velvet Cue Stick was a great entertainer who drew newspaper reporters and TV newscasters to many events.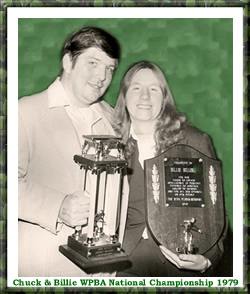 Establishment of the WPBA NATIONAL CHAMPIONSHIP
.....In 1977, Billie was told by a representative of the men's Professional Pool Players Association that women pool players would never be able to garner enough sponsorship or audience support to hold their own autonomous tournaments. Billie declared right back, "Oh yes we will!" By 1979, Billie proved them wrong by founding the pinnacle of the women's pocket billiard professional tour, the WPBA National Championship, which still stands today. The first event was held in August at Rudolfo's in Hammonton, NJ. In appreciation of her achievement the players presented her with a special award. Here she is congratulated by her brother Charles who attended the WPBA showcase event.