.....Billie-isms, are my thoughts about people and aspects of the billiard world that are essential in my mind for others to know about. Perhaps no one else is going to recognize their significance, but nonetheless I felt the urge to showcase these people, events and my beliefs on certain topics within these pages. Please keep in mind I have a reputation for being controversial, a moniker I treasure.

PETER MARGO
Before There Were Any Pool Instructors There Were Pool Talkers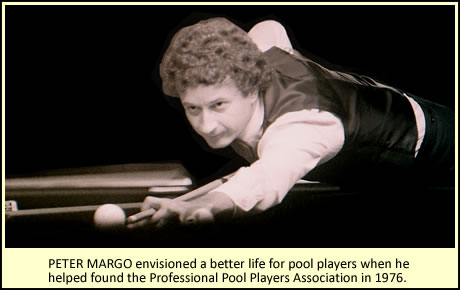 .....For a few years, I played in Pete Margo's pool room in Staten Island, NY. At 3 AM, he would close the doors and lock a few players in with him and we'd all play pool until around 6 AM. The only price of admission was that you had to listen to Petey talk about himself throughout those three hours. Personally, I loved it. He was funny and told many entertaining stories about being on the "road". The most impressive aspect of the scene was that Pete would be running racks and racks of balls the whole time he was talking. He'd run ninety plus, miss and on his next turn run eighty something. All the while Pete would be talking about how bad he was playing.

.....Afterwards we'd go to the local diner and talk pool throughout breakfast. There were lucky nights when a passionate discussion would lead to Pete and fellow players making detailed drawings of pool table situations on napkins. There were rectangles, circles and lots of arrows saturating the small white square. I was just a fly on the wall, happy to be included in the group.

.....Keep in mind, in 1976 I knew of only one book, Willie's famous "Little Red Book" on pocket billiards. It was difficult to find anything else written about the game. There were no teachers. Everything about the game was learned the hard way. As everybody got up and headed for the diner door, I grabbed all the etched napkins. At home, I sat down and wrote everything I could remember about the pool discussion that was led by Pete Margo. I integrated all the drawings into my notes. I still regret getting rid of the napkins which would be precious souvenirs for me now. The next time I went to the pool room I practiced my new found instructional material. It's one of the ways I learned how to play. I still smile when I think about those good times. And I thank Pete for letting me be "one of the boys".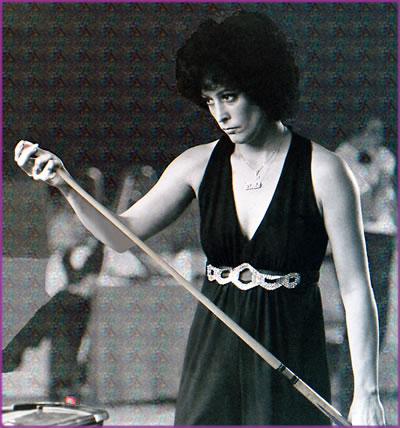 KINETIC COMBINATION
Linda and Howie Pearl

.....LINDA PEARL was a regular player at WPBA qualifiers during its early years. A pool enthusiast, she started out as a devotee for her husband, Howie Pearl. He is a lawyer who fell in love with pool, in particular, 14.1 continuous. He spent most of his free time on the green court. In order to ensure he would get plenty of table time, he encouraged his wife, Linda, to learn the game. Over time, Linda vastly improved and they would both go to the pool room and tournaments together. Linda also attended many WPBA occasions, for instance, Dorothy Wise's induction to the Hall of Fame. I always appreciated Linda's helpful comments on how to improve our fledgling organization.


.....Linda and Howie were a common sight on the men's and women's pool tour during the 1980s. They were a winning combination. Howie demonstrates how to make a combination with spin in "The Right Combination" on the Pointers page.