.....Billie-isms, are my thoughts about people and aspects of the billiard world that are essential in my mind for others to know about. Perhaps no one else is going to recognize their significance, but nonetheless I felt the urge to showcase these people, events and my beliefs on certain topics within these pages. Please keep in mind I have a reputation for being controversial, a moniker I treasure.



Dorothy Wise Enters the PPPA Hall of Fame
1983 World Open Short Stories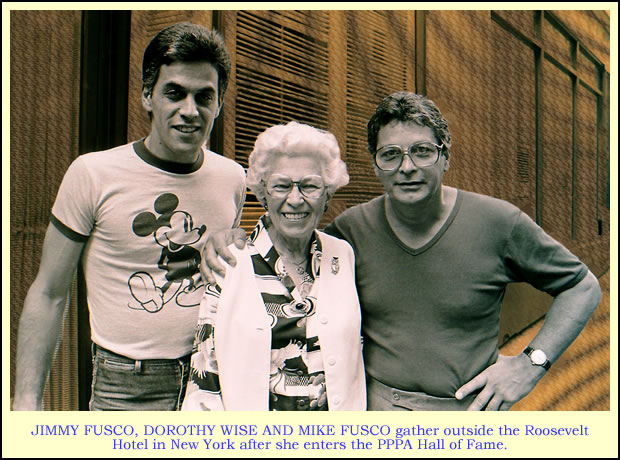 MIKE FUSCO
One of the WPBA's First Supporters
…..AROUND 1977, the WPBA was a fledgling organization. Many thought that the women's side of the sport was hopeless. For the most part, we were considered window dressing to any major event. One of the first room owners to step up and hold a qualifier for the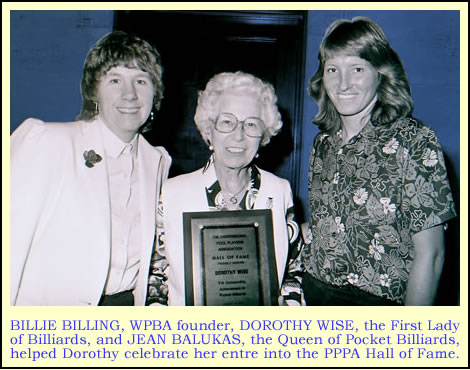 Women's World Tournament was Mike Fusco (no relation to Jimmy or Pete), owner and operator of the Boulevard Billiard Club in Philadelphia, Pa. which recently closed its doors. Hosting a women's tournament for the WPBA meant giving up your pool room all day Saturday and Sunday, and therefore your weekend revenue, with little hope of an audience willing to pay an admission fee. And the room owner had to hope there were at least 12 women who showed up to play in the event. As WPBA President, I worked hard to fill the 16 player field. I also pushed out a blast of public relations material to the local press. Since a room owner was not going to make a profit from a women's tournament, at least his room would get some publicity. Not only did Mike host our event, he donated money to our prize fund out of pocket and paid a qualifying fee that went into our major year end event.
…..In a show of support for women's pocket billiards, Jimmy and Mike were some of the first to congratulate Dorothy Wise, five time US Open winner, on her entry into the Professional Pool Players Association's 1983 Hall of Fame.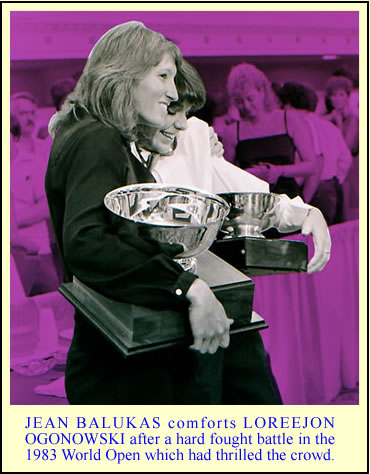 EVERYBODY WAS IN AGREEMENT
IT WAS THE WORST OF TIMES;
IT WAS THE BEST OF TIMES
…..Jean Balukas comforts a teary eyed LoreeJon Ogonowski after a tough, exciting final at the Roosevelt Hotel in New York City, NY. LoreeJon had been ahead in the match which was refereed by Cue Ball Kelly. She had Jean on the ropes when a safety battle ensued. After a long series of back scratches, mixed with good safeties, it looked like LoreeJon was in the cat bird's seat. The entire crowd was hushed and the air was thick with tension.

…..Then the unthinkable happened, LoreeJon forgot she was on two scratches and intentionally took a third back scratch! The penalty for the third scratch is loss of 15 points (plus one point for each of the three intentional fouls taken.) Added to that, LoreeJon had to execute the opening break wherein two object balls and the cue ball must strike a cushion. LoreeJon mentioned that she had not gotten a warning from the referee that she was "on two". However, when the score is posted, as it is in the World Open, no such warning is required. It's the player's responsibility to check the board. After that, Jean took command of the match and won her third World Open tournament.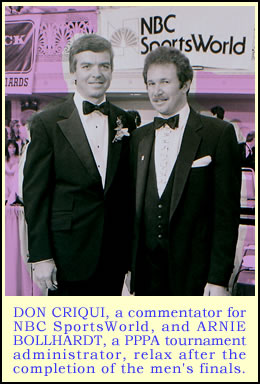 NBC SportsWorld
.....The Professional Pool Players Association managed to entice NBC SportWorld to cover the 1983 PPPA World Open. It has always been a struggle to attract television cover to pocket billiard events. Pictured here is PPPA administrator, ARNIE BOLLHARDT, along with DON CRIQUE, who was the commentator during the finals between STEVE MIZERAK, who won the competition, and our beloved JIMMY FUSCO. It was a classy affair with everybody donning their tuxedos. I, for one, miss our straight pool tournaments.