.....Billie-isms, are my thoughts about people and aspects of the billiard world that are essential in my mind for others to know about. Perhaps no one else is going to recognize their significance, but nonetheless I felt the urge to showcase these people, events and my beliefs on certain topics within these pages. Please keep in mind I have a reputation for being controversial, a moniker I treasure.
SY AND DOLLY ECKSTADT
FORMER OWNERS OF THE GOLDEN CUE IN NEW LONDON CONNECTICUT
SUPPORTERS OF THE BILLIARD INDUSTRY
AND THE WOMEN'S PROFESSIONAL BILLIARD ASSOCIATION
.....When Billie was trying to find room owners willing to hold a qualifier for her first World Open event, the first person she telephoned was SY ECKSTADT, owner and operator of Gold Crown Billiards in New London, Ct. For years, Sy, and his wife DOLLY, had hosted qualifiers for the BCA US Open and hosted the Eastern States Championship. Addditionally, they held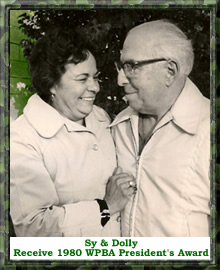 exhibition matches, both trick shot shows and competitions between top male players at their location. Besides showcasing the players, and giving their customers an opportunity to see the game at its best, Sy and Dolly paid their performers. At a time when there was little funding for pool players, the Eckstadts provided some financial relief to a number of the best talents of the day.
.
.....Likewise, they supported the BCA by buying a room membership and as volunteer scorers at the US Open. Additionally, they were avid supporters of both players and the industry and had gained national regonition for their consistency of actions, values, principles, and expectations. They are well respected by everyone in the industry. When the founders of the PPPA broke away from the BCA, rather than takes sides, Sy remained neutral and continued to support both fractions. His intelligence as a business man and his integrity as a human being made him a sought after counselor for both the PPPA and Billie Billing.


.....After she explained to Sy that she was putting together the women's division of the 1977 PPPA World Open and requested that he hold a qualifying event, Billie was surprised to hear his response. "How do I know you're not going to take off and disappear with the qualifying fee money?"
....."I was completely taken aback and told him, Sy, I would never do something like that!" Billie remembered.
.....He replied, "I know you wouldn't do that Billie, but other room owners don't know you like I do. You are new to the pool world. If you want to raise money people have got to know your name and develop a trust in you. You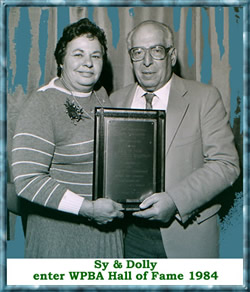 have to figure out a way to get your name out there."
.
.....Billie immediately realized that Sy had given her some wise advice. She went to work finding a venue. By January 1977, Billie started writing her first billiard column in the American Billiard Review. Since in her "real" life Billie was a professional photographer in the public relations office of Long Island University, she began selling her photos of pool players to billiard publications like the National Billiard News. Between her playing, writing and photography Billie slowly gained recognition throughout the billiard population.
.
.....SY and DOLLY went on to become two of the most influential advisor's to the WPBA in the early growing years as prominent members of its Board of Directors. In 1980, they became the second recipients of the WPBA President's Award. And in 1984, they rightly entered the WPBA Hall of Fame.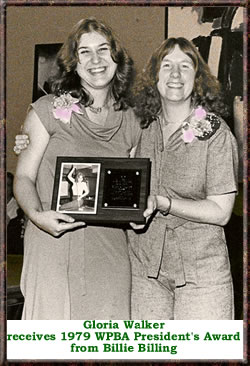 GLORIA WALKER
RECEIVES THE FIRST WPBA PRESIDENT'S AWARD

.....Queen of the short rack game, GLORIA WALKER dominated over everyone, including JEAN BALUKAS (Queen of straight pool) during the '75, '76 seasons in 6, 8, and 9 Ball. The initial Vice President of the WPBA in 1979-1980, she won the first two WPBA tournaments ever held, the 8-Ball Masters and the 6-Ball Masters. Gloria also excelled in straight pool winning many WPBA 14.1 events from 1977 throughout the 80s. Gloria was the first recipient of the WPBA President's Award established by Billie in 1979 to show her gratitude towards persons deserving of special merits. The President's Award is still being given out to this present day.

GLORIA WALKER won the 1976 6-Ball Masters, held at the Hall of Fame Billiards in Lansing, MI. It was the second event sponsed by the newly created women's pool players association.
....."I do remember a few of the other players in the photo but not their names," confessed Billie. "My apologies to anyone I've missed, but it is worth noting the few I recollect."
(If you can identify anyone in the picture please contact us so we can add their names.)